You would like to contact VBL? Here you can find phone numbers, our e-mail, address and more.
Address
Hans-Thoma-Str. 19
76133 Karlsruhe

Map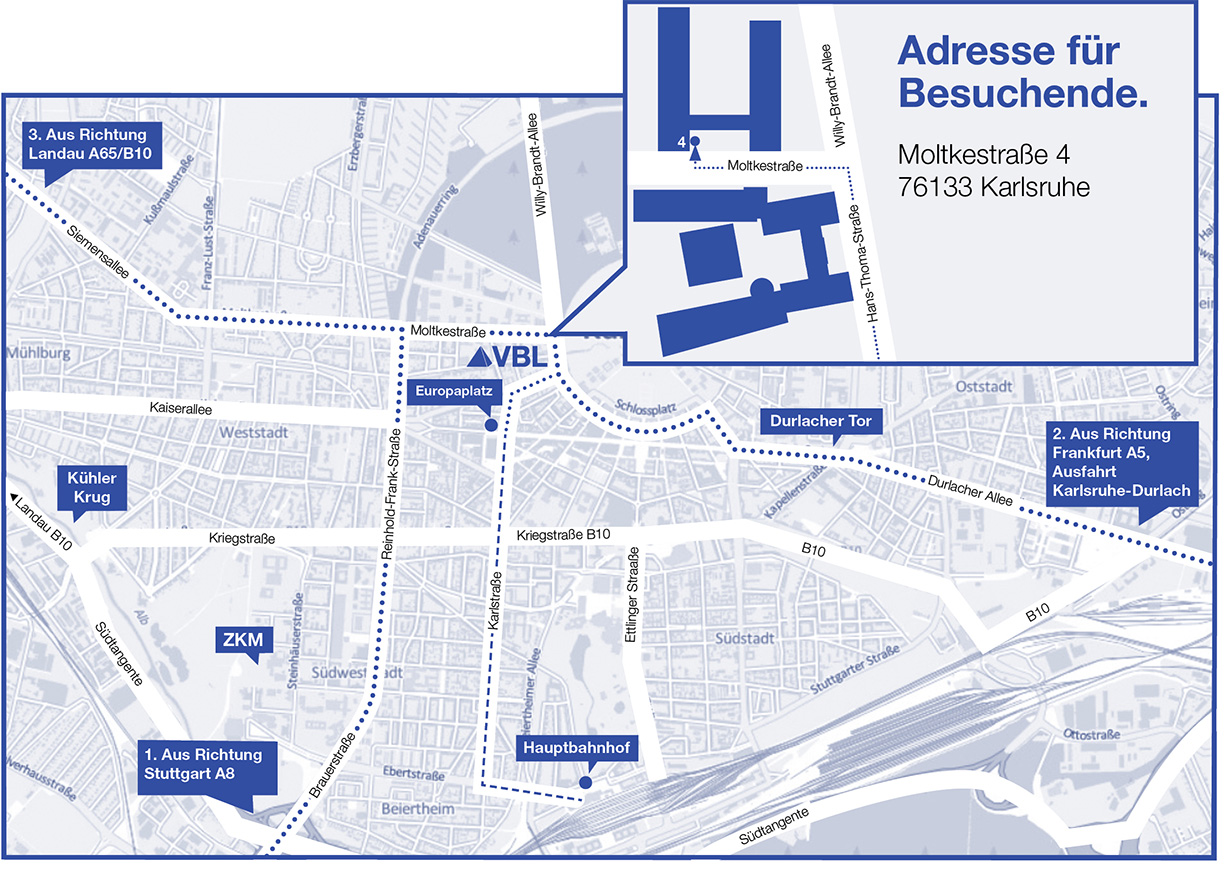 By public transport:
From the main railway station take the tram towards Europaplatz as far as the "Europaplatz" stop (several routes go there). From there, walk down Karlstrasse until you get to the end. Then turn right into Stephanienstrasse and walk to the end of that street. Then turn left into Hans-Thoma-Strasse and continue to VBL.
By car:
From the Stuttgart direction (A8).
At the Karlsruhe junction take the A5 towards Basel, continuing to the Karlsruhe-Süd exit (second exit after the motorway junction). From there go straight on towards Karlsruhe city centre, first on a motorway-type expressway and then, when it ends (on the left you will see the Europahalle), continuing straight on along Brauerstrasse (passing the ZKM). Drive across the "Kriegsstrasse" and "Kaiserallee" intersections and continue straight on along Reinhold-Frank-Strasse to Moltkestrasse. Turn off right here into Moltkestrasse and follow it to the end. VBL's buildings are on the right and left.

From the Frankfurt direction (A5).
Take the Karlsruhe-Durlach exit towards the city centre ("Stadtmitte", not "Durlach") and go straight on (at the second traffic lights get into the right-hand lane), following Durlacher Allee in the direction marked "Durlacher Tor/Schloss/Universität" until you reach the "Durlacher Tor" intersection. From there continue straight on along Kaiserstrasse towards Schloss/Zirkel. At the beginning of the pedestrian zone, turn right into Waldhornstrasse and follow the course of Waldhornstrasse
(leads to Schlossplatz and there turns slightly to the left). Continue through an underpass, at the end of which the road runs to the left and leads to a set of traffic lights. Turn right here into Hans-Thoma-
Strasse. Then go straight on until you see VBL buildings on the left (corner of Moltkestrasse).

From the Landau direction (A65/B10).
Coming from the direction of the Rhine bridge, take the Knielingen exit, continue straight on and turn left at the third traffic lights (Sudetenstrasse). At the next traffic lights, turn right into Siemensallee. From here go straight on all the way (approx. 3–4 km), first on Siemensallee (passing the Siemens factory) which then merges with Moltkestrasse (passing Städtisches Klinikum hospital), across Adenauerring and to the end of Moltkestrasse. VBL's buildings are on the right and left.